Description
Do you always brew a cup of coffee to start your day, and do you require a coffee roaster to enhance its flavor? You may roast coffee beans in the convenience of your home using our coffee roaster machine!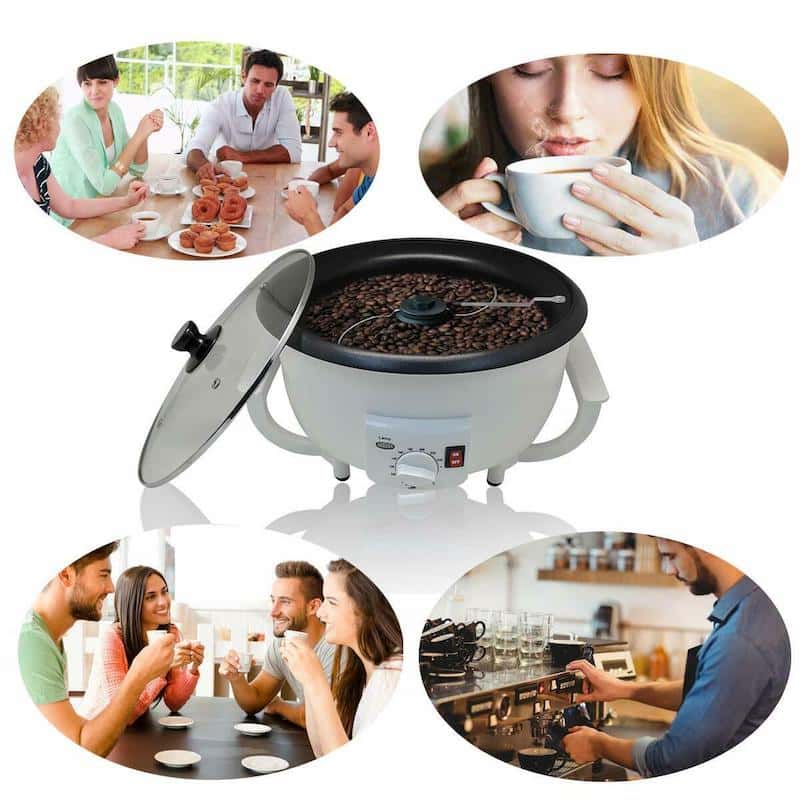 The coffee bean roaster's stirrer arms make sure that heat is distributed equally among the coffee beans. Your coffee beans won't burn this way, and you'll always have fresh, fragrant coffee.
The home coffee roaster, which has a large tray, can roast more than a pound of coffee beans at once. One batch of beans on the bean roaster will yield about 80 cups of delicious coffee.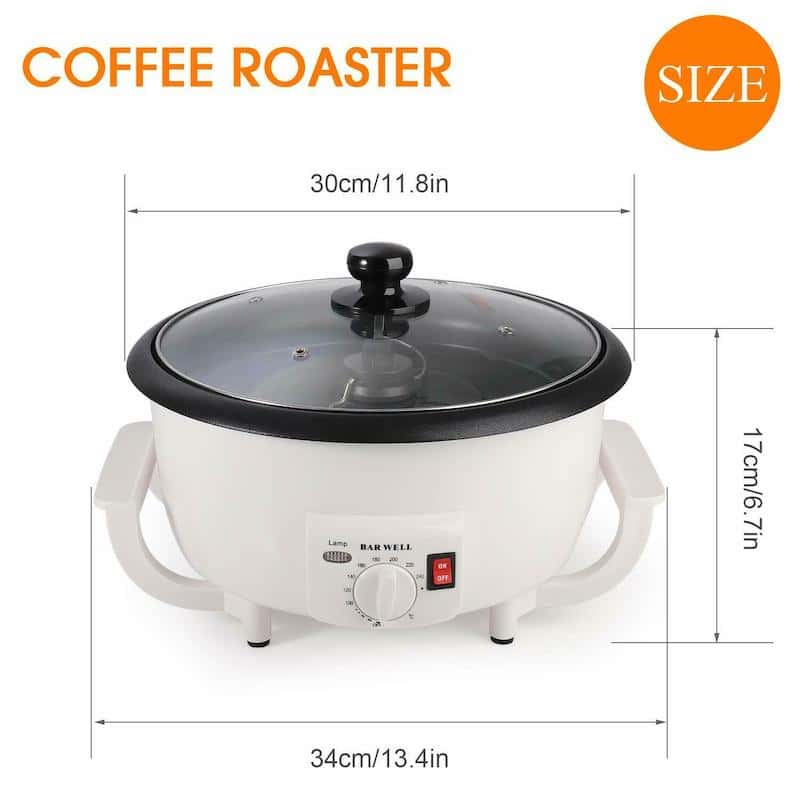 Even better, the coffee roaster fits on any surface and is pleasantly portable. The coffee roaster machine also includes a heat-resistant stand to prevent burns to your hands or surfaces.
FEATURES
NON-STICK POT – When beans are being roasted at high temperatures, they have the tendency to burn easily and get stuck on the roasting pan. Our coffee bean roaster
comes with a non-stick pan that makes sure that you never have any burnt bits stuck on the pan.
ADJUSTABLE TEMPERATURE – Different types of coffee beans react to heat differently, and being able to adjust them is the key to perfect cups of coffee. This home coffee
roaster has a temperature adjustment knob that will et you control the temperature at all times.
BIG CAPACITY – You can create a whole family-sized batch of roasted coffee on the bean roaster. It can fit a maximum amount of 1.7 pounds of coffee in the pan and can
yield you a couple of months worth of fresh-tasting coffee.
SPECIFICATIONS
Rated voltage: 110 V
Inner diameter: 10.6 in
Input power: 1200W
Capacity: 1.7 lbs
Net weight: 6.6 lbs
Color: White
PACKAGE CONTENT
1x Coffee roaster
Best coffee I've ever had
Just started roasting my own coffee. Also got a good grinder and espresso machine. It's way better than Starbucks and even better than the better coffee shops I've been to. Not bitter at all, just flavorful. Tastes like it smells.
Best first time roaster under $200
100% recommend this roaster if you've never roasted coffee before and want to try it for less than $200. There are definitely better "sample roasters" out there but you're not gonna find anything better than this for under $200 in my opinion.
Great machine for learning to roast coffee.
Great machine for learning to roast coffee. But you need to watch videos or read online to learn what others do.
Great entry level roaster
Great entry level coffee roaster. Simple to setup and use , easy to clean and creates a nice even roast. Have done a wide variety of beans and had the results that I am looking for. Update. Died after 4 months/ doing 3 -5 batches per week. I am still satisfied
Good value
Coffee roaster worked well but took over 2 hours to process beans. Was a very good dark roast.