The Adult Foldable Stand Alone Bathtub was designed to make it simple to enjoy a nice, steamy bath. With this portable bath tub, you may soak your body in warm water while drinking tea and watching your favorite movie.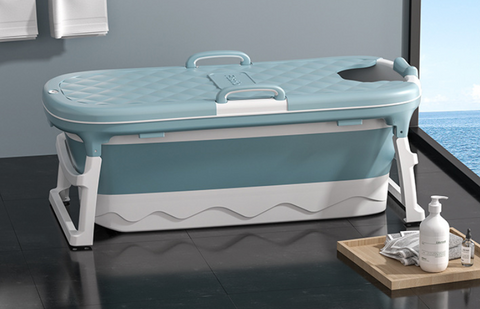 Our foldable adult tubs are the most comfortable option due to their compact size and ease of usage.
It only takes a few seconds to unfold the foldable bathtub and fill it with water. Our portable huge bathtub's outer layer was made to keep the water warm for extended periods of time.
To drain the water after use, there is a tiny hole in the tub's bottom.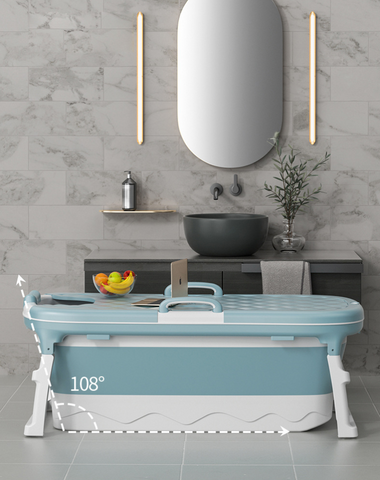 The best part is that our foldable bathtub can be readily stored because of its distinctive shape and size; just empty the water completely after usage. Put it away by folding it! In actuality, it is really simple to utilize this standalone adult bathtub both inside and outside.
Features:
– ERGONOMIC DESIGN – Our portable folding bathtub was developed to offer people a quick and simple experience without any added trouble. Simply add warm water to our portable hot tub and jump in to unwind your entire body! This portable bathtub can comfortably accommodate people up to 6'5″ tall.
IMPROVES HEALTH – Because of its diminutive size, the water in our adult foldable bathtub is kept confined to a single area of the body. Within minutes, all the muscles start to unwind and let go of their stress.
Simply told, our portable adult bathtub was made to endure a lifetime. – BUILT TO LAST In addition to helping save a ton of money through energy efficiency, it can withstand extremely hot temperatures.
EASY TO DRAIN – The portable tub has a tiny hole on the bottom that makes it simple to drain all the water out after usage. Additionally, a pipe can be connected to this hole to regulate the direction in which the water drains out.
SPECIFICATIONS
Material: High quality plastic
Dimensions: 54.3″ x 24.4″ X 20.4″
Height: Fits all people up to 6'3″ but those under 5'7″ can
fully stretch legs