Description
10X-1200X DIGITAL MAGNIFICATION: The LCD digital microscope offers 10X-1200X magnifications (magnification corresponds to monitor size), allowing you to clearly view the smallest details of specimens like plants, coins, diamonds, and soldering, among others. It's a great gift idea for children.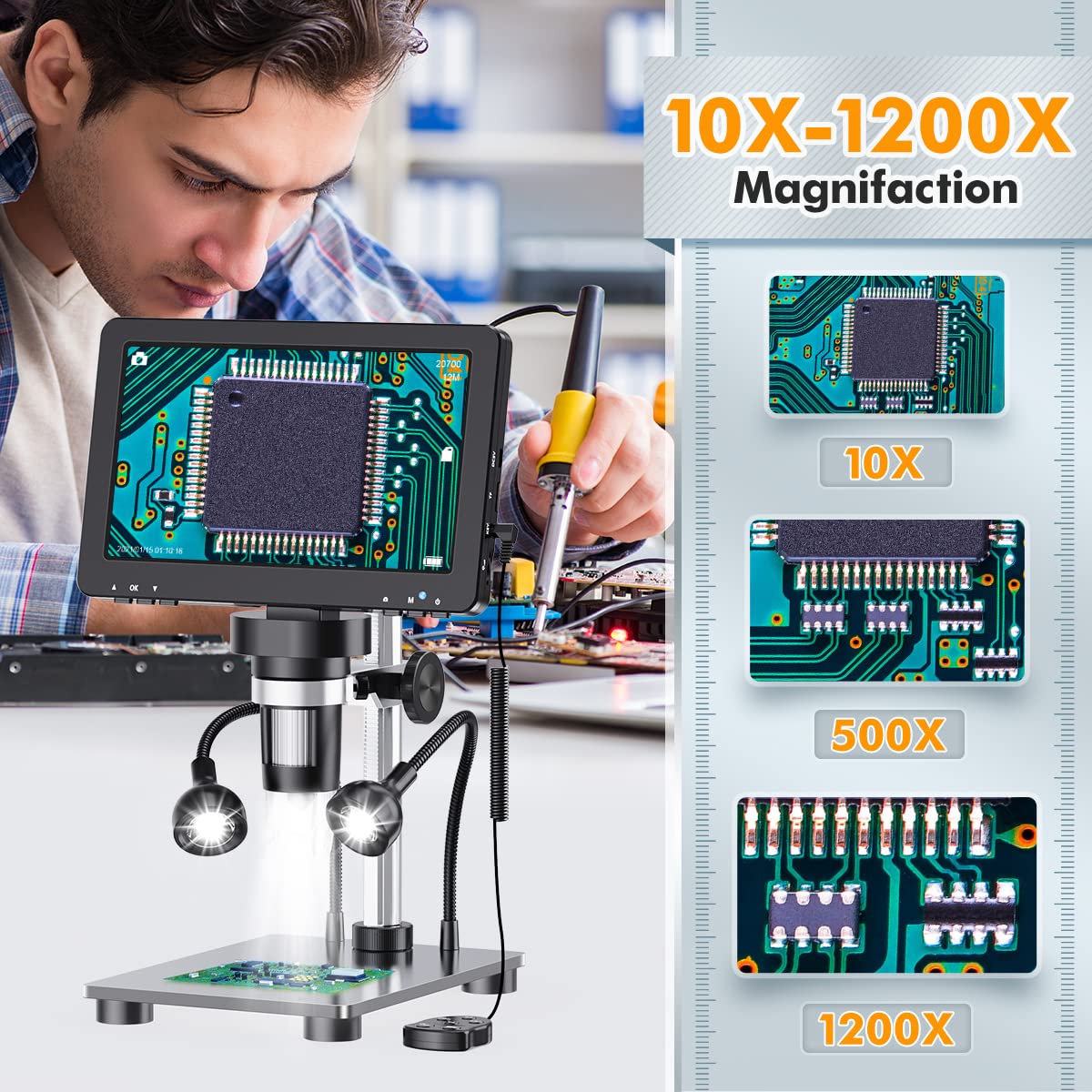 The images and videos you capture while using our electronic microscope are saved to a micro SD card (Note: the micro SD card is not included), with a maximum support of 32GB; 7 INCH LCD DISPLAY: Our electronic microscope uses a built-in 7 inch screen that allows you to view directly, making it very convenient for outside use;
EASY TO FOCUS: Adjusting the object close to the lens, then you can view the specimens on the 7 inch screen clearly by rotating the focus wheel slowly;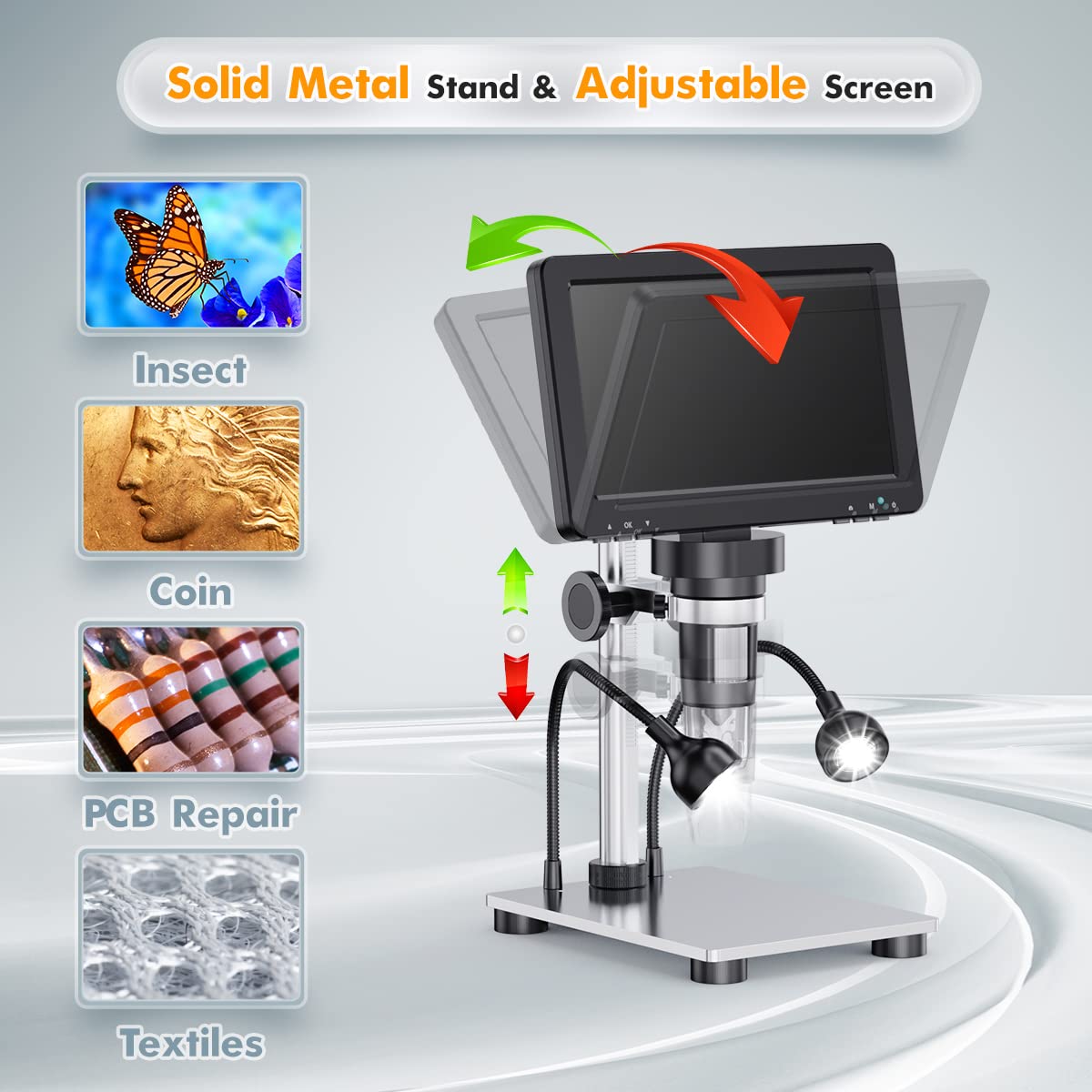 SUPPORT CONNECT WITH PC: The PC view is compatible with Windows and Mac OS, allowing for more expansive observation as well as easier data sharing and analysis. Run the built-in apps "Windows Camera" for Windows 10 and "Photo Booth" for iMac/MacBook without downloading any other software;
Our new digital USB microscope uses an adjustable aluminum alloy bracket rather than the older version plastic bracket, which allows you to see the item more stably and precisely;
Elikliv microscopes have 10 ADJUSTABLE LED LIGHTS, which ensure that your specimens are bright and clear. They also have 2 additional auxiliary lights, which add even more great detail and clarity and make it possible to take images or videos in some dimly lit areas.
Widely used, excellent gift idea Elikliv LCD microscope is a terrific present that is appropriate for both children and adults. It is particularly useful for inspecting circuit boards, insects, coins, jewels, trichomes, rocks, and stamps, as well as for repairing watches and clocks and identifying skin anomalies.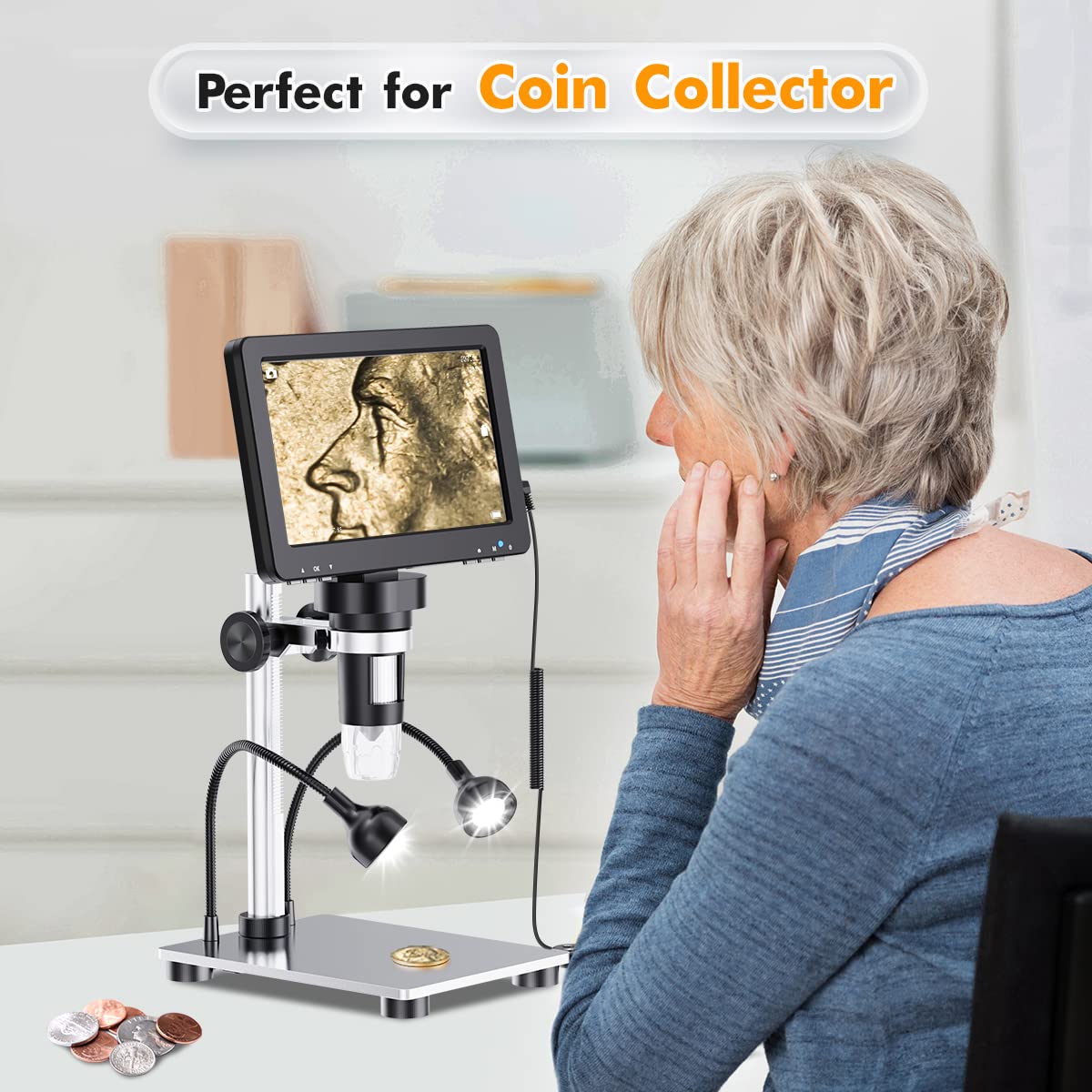 Specification
Screen Size: 7 inch
Resolution: 1080P
Magnification: 10X-1200X
Adjustable Brightness: 10 LED lights
Real Angle of View: 90 Degrees
Material:7″ Large LCD Monitor + Aluminum Stand + Metal Base
Support PC System: Windows XP,win7, win8.1,win10,or higher,Mac OS
What's in the box
✔ 1X Digital Microscope
✔ 1X Aluminum Base, Holder
✔ 1X Wired Remote
✔ 1X USB Cable
✔ 1X User Manual