Description
Why is a heated stadium seat chair necessary?
No matter the season, The Heated Stadium Seat Chair will transform your uncomfortable, backless, and disorganized seating into a first-rate, comfy seat.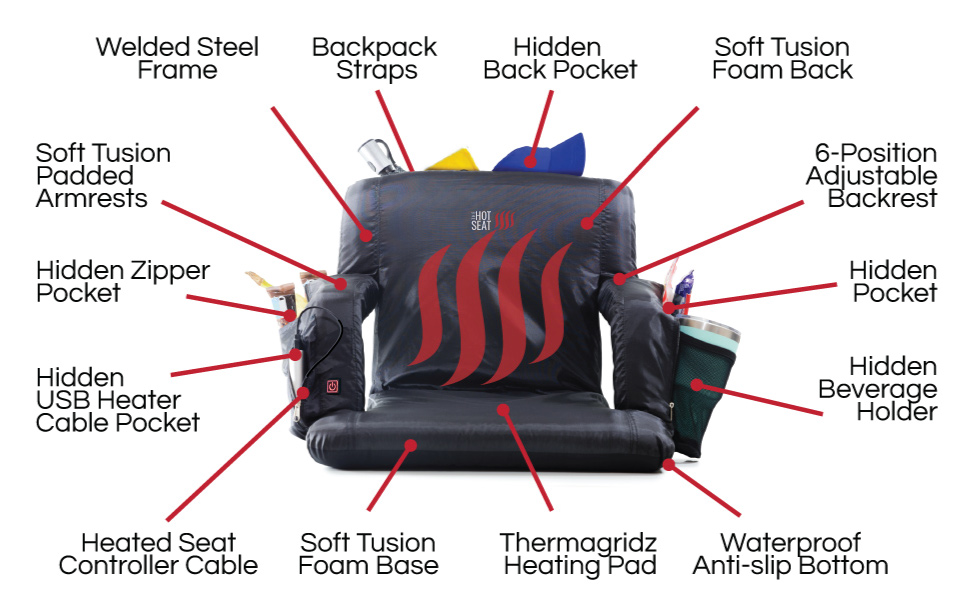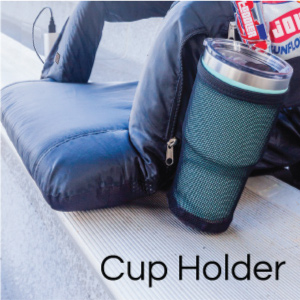 Holds up to a 25oz bottle securely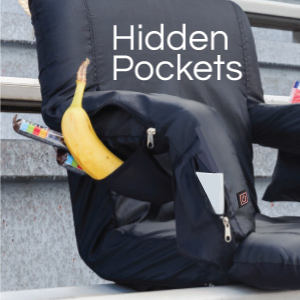 Hidden Pockets you unzip when you need them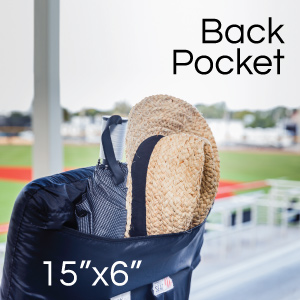 Large back pocket keeps items you always need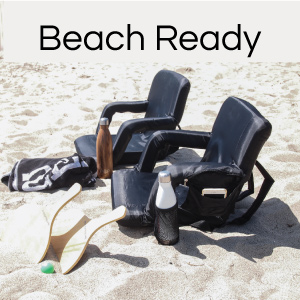 Great Seat for a beach day, sit up or lay back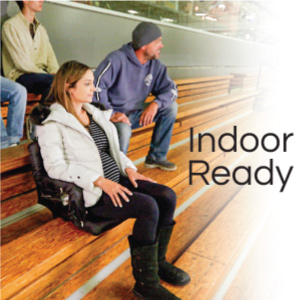 Use at indoor games or practices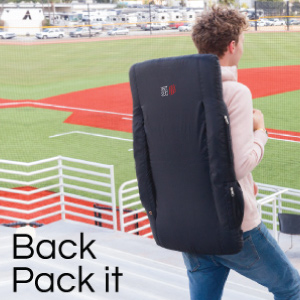 Folds flat and has backpack straps
BEST SEAT IN THE STADIUM: The Hot Seat features USB-powered heating technology (PORTABLE USB BATTERY NOT INCLUDED). Safely penetrates into the body to relax and warm your muscles at any outdoor or indoor events. With the simple push of a button can warm up your seat up to 115 degrees Fahrenheit. Works with ANY USB portable battery pack and lasts for hours. Simply plug the USB cable into the USB Port of your battery and feel the warmth!
BENEFITS OF A HEATED CHAIR: Keeps the blood moving to the extremities to allow you to sit long periods of time with more comfort during any season. Heat can help avoid sore muscles after long periods of being seated. The adjustable heat will help you focus on the game rather than how cold or uncomfortable you are. With warmth and comfort built into the chair, you will not have to carry extra necessities like blankets or portable heaters.
VIP SEATING: As roomy as a first-class airplane seat, Hot Seat?s High-Density Foam Cushion supports and cradles your lower back and tush. The Padded Armrests help prevent back fatigue, so you can be comfortable during any event or outing. The Hot Seat comes with 6 reclining positions. For a wider seat, simply fold down the armrests and enjoy 20 inches of padded comfort. The Hot Seat is also extremely portable and compact for effortless carrying and stowing away.
AMPLE STORAGE AND WATER PROOF: The Hot Seat comes with 1 oversized pocket for larger items and 3 smaller pockets for smaller quick-access items. Also, keeps your drink from spilling with the handy hidden cup holder. Made with Waterproof 600D Heavy Duty Materiall, the Hot Seat is perfect to protect you from wet bleachers.
QUALITY BACKED BY GUARANTEE: We always thrive for 100% customer satisfaction. That?s why offering a 2-year warranty for the Hot Seat was a no-brainer for us. If anything is not to your complete satisfaction, simply reach out to us and we will make it right! Guaranteed.