Description
While unwinding, you can burn up to 600 calories in 30 minutes.
With our Infrared Fat Burning Sauna Quilt, you can enhance your health and fitness in the convenience of your own home.
Without having to leave the house, exercise, or change your food, this high-tech solution gives you a comprehensive approach to wellness and can help you lose weight, feel great, and look amazing!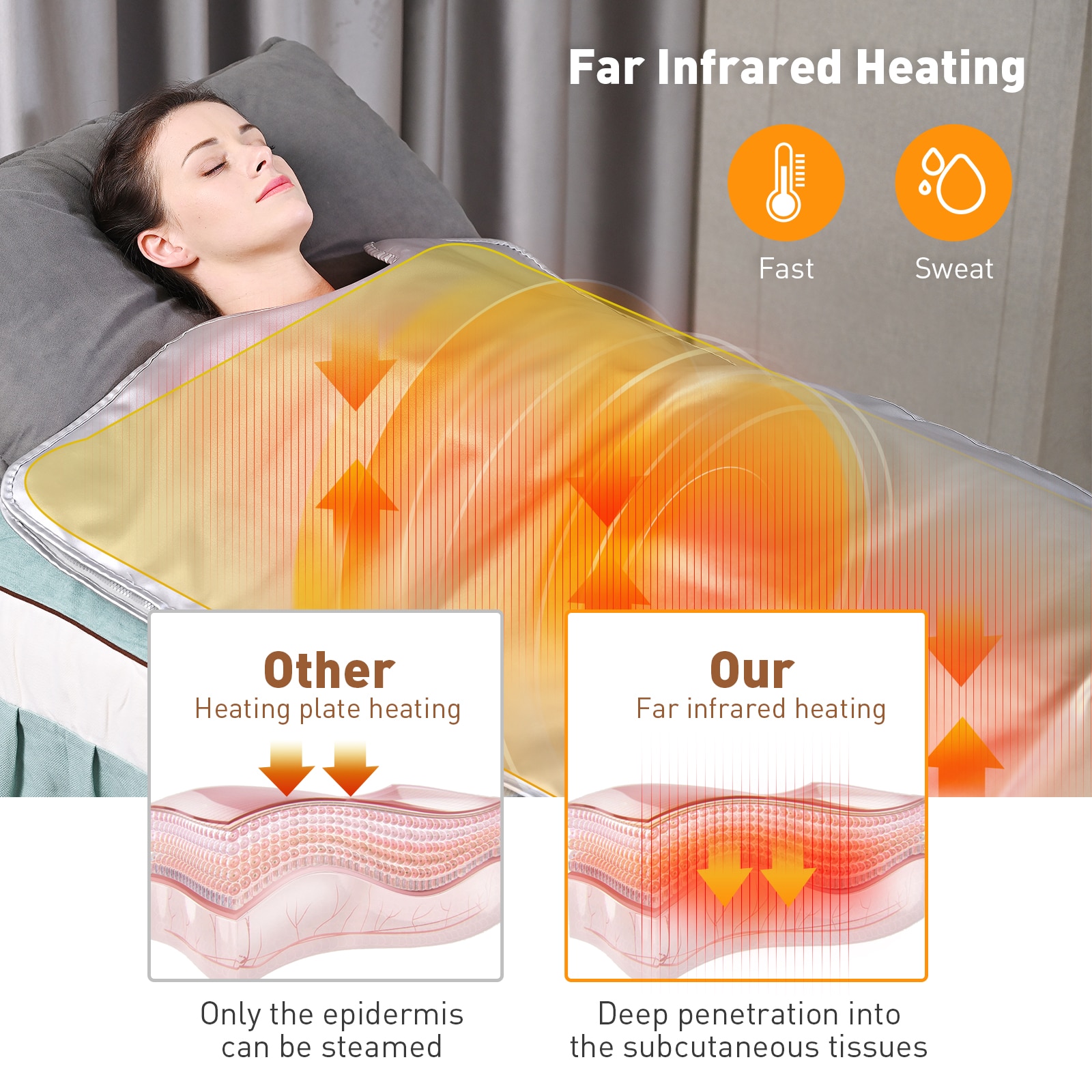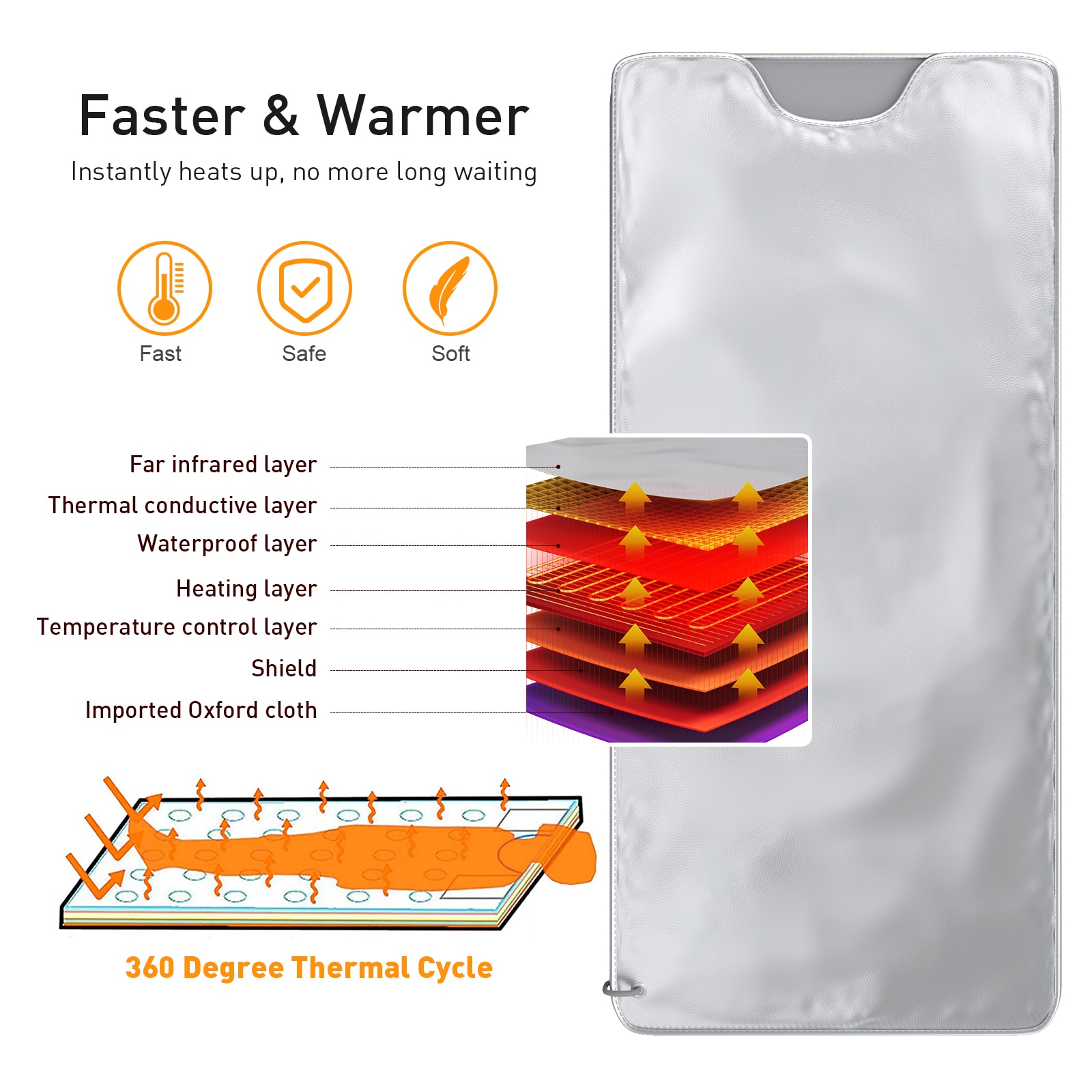 HIGHLIGHTS:
Burn calories—between 300 and 600 each 30-minute session, which is equal to an hour of jogging.
Deep infrared heat for up to 6X more effective detoxification
Bathe in the pleasant after-sauna high to reduce anxiety and improve sleep.
Quickly heal joint pain and inflammation in the knees, lower back, and upper back.
Faster recovery from muscle injuries and exercise workouts
Improve blood circulation to strengthen your immune system
BENEFITS:
You'll save money by using this device instead of going to the spa or the gym, making it the ultimate wellness investment.
It folds up simply, takes up minimal room, and fits in a small luggage, making it incredibly practical.
Wireless and rechargeable with a 100-hour internal battery
With hands-free technology, there is less downtime and more enjoyment.
Non-invasive, painless treatment without chemicals or needles
Technology that has received FDA approval and has passed the strictest international safety criteria
No adverse effects, suitable for all ages and skin types.
It is enjoyable and energizing to use, and it will make you feel and look radiant!
Increases skin care product absorption by dilating pores and enhancing blood flow
THE WAY IT WORKS
By combining traditional heat with far-reaching infrared light therapy, our Infrared Fat Burning Sauna Quilt raises your core temperature from the inside out to promote weight reduction and detoxification much more quickly and effectively than traditional saunas, which only warm the surrounding air.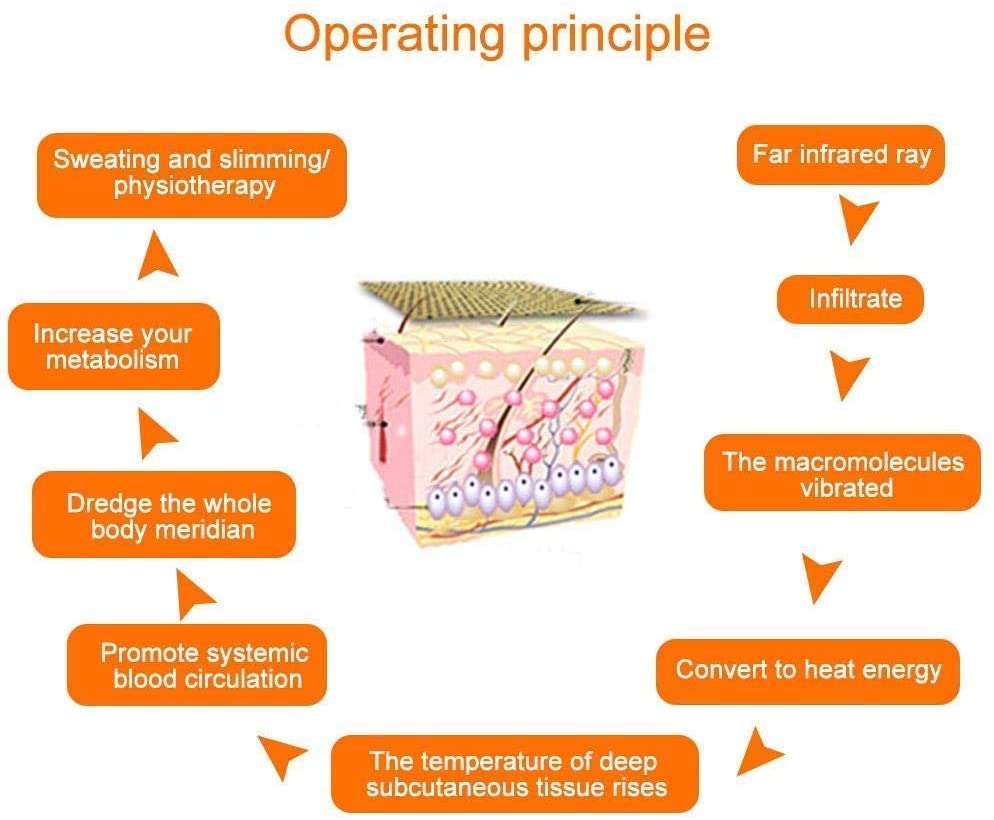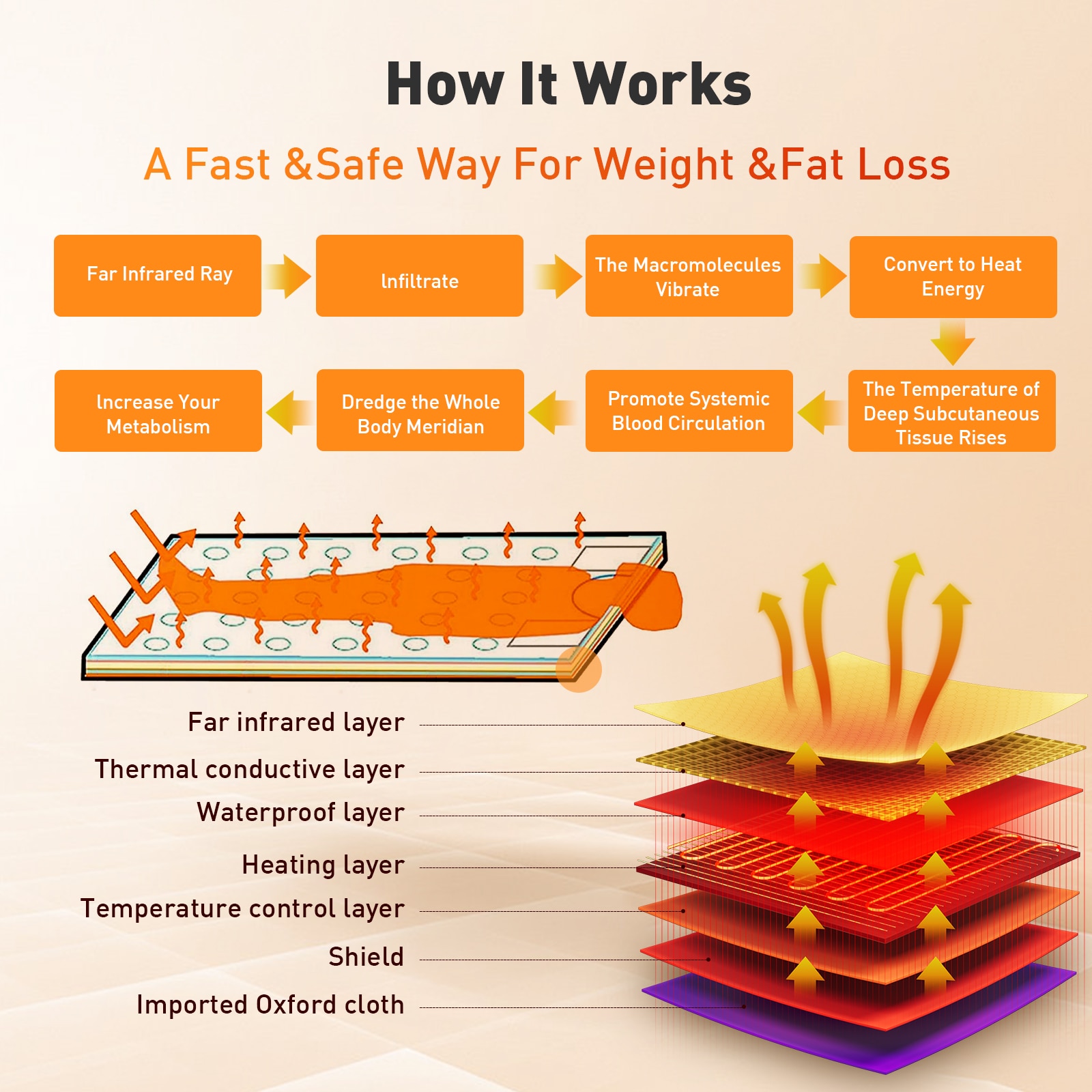 Raises the warmth inside of you, which causes your heart to pump more quickly and burns more calories. You can burn up to 600 calories during a 30-minute session.
Increases your metabolism, which will help you lose weight more quickly if you use it frequently.
Boosts your immune system and improves blood circulation, which flushes out toxins that have been deep inside your body when you sweat.
Improves mood and helps in getting a better night's sleep by encouraging the release of "happy chemicals" like serotonin, while lowering stress hormones like cortisol.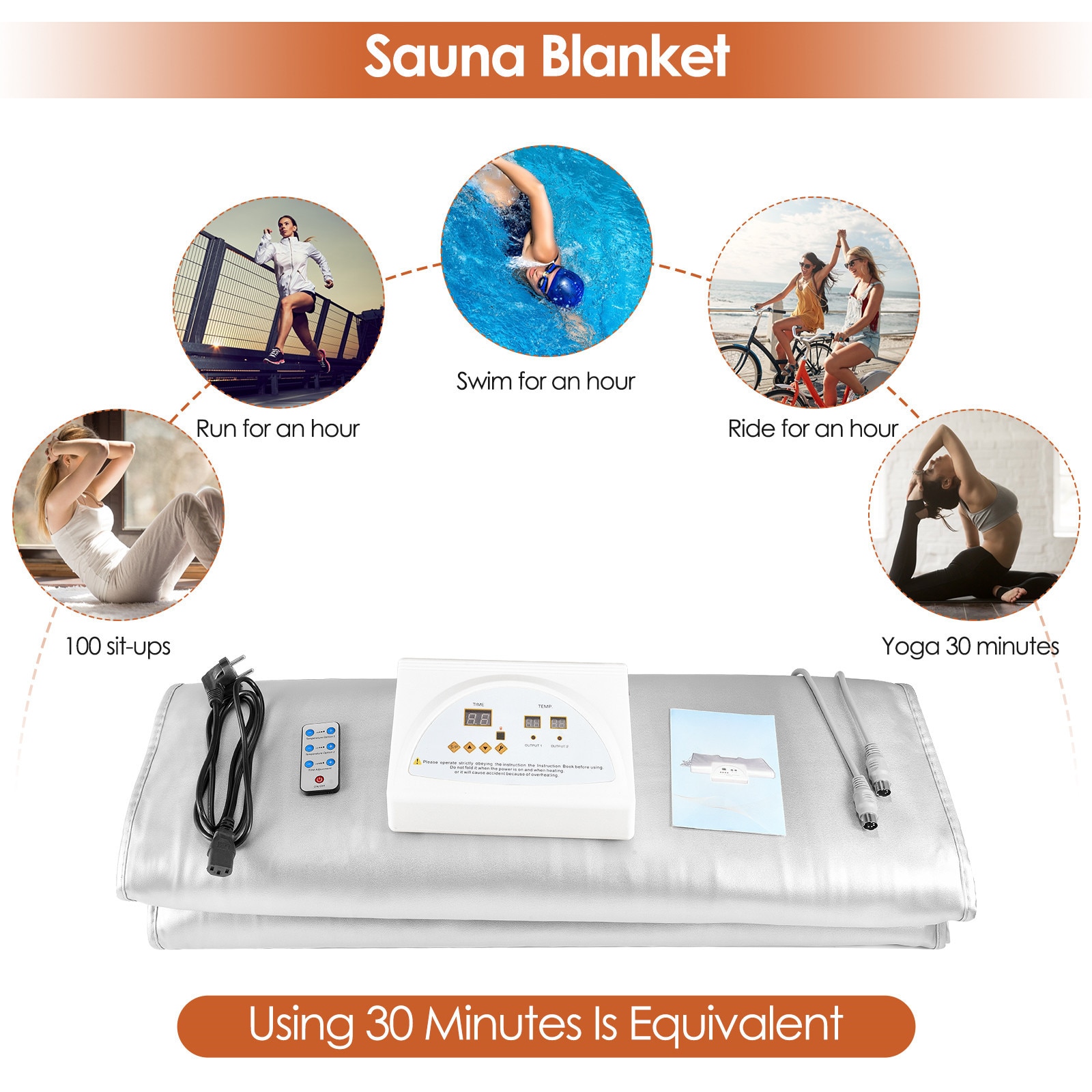 WHAT TO DO
On a heat-resistant surface, spread out the Infrared Fat Burning Sauna Quilt (a bed or sofa works well).
Start heating the blanket using the digital handheld controller, then lie down and wrap yourself in it while wearing light pajamas or while reclining on a towel.
Bask in the comforting infrared rays of the blanket for up to 55 minutes. Play some music, watch some TV, practice meditation, or take the most restorative nap of your life!
Experience a lovely night's sleep or feel renewed, balanced, and ready to take on the world.
* Not recommended for use during pregnancy.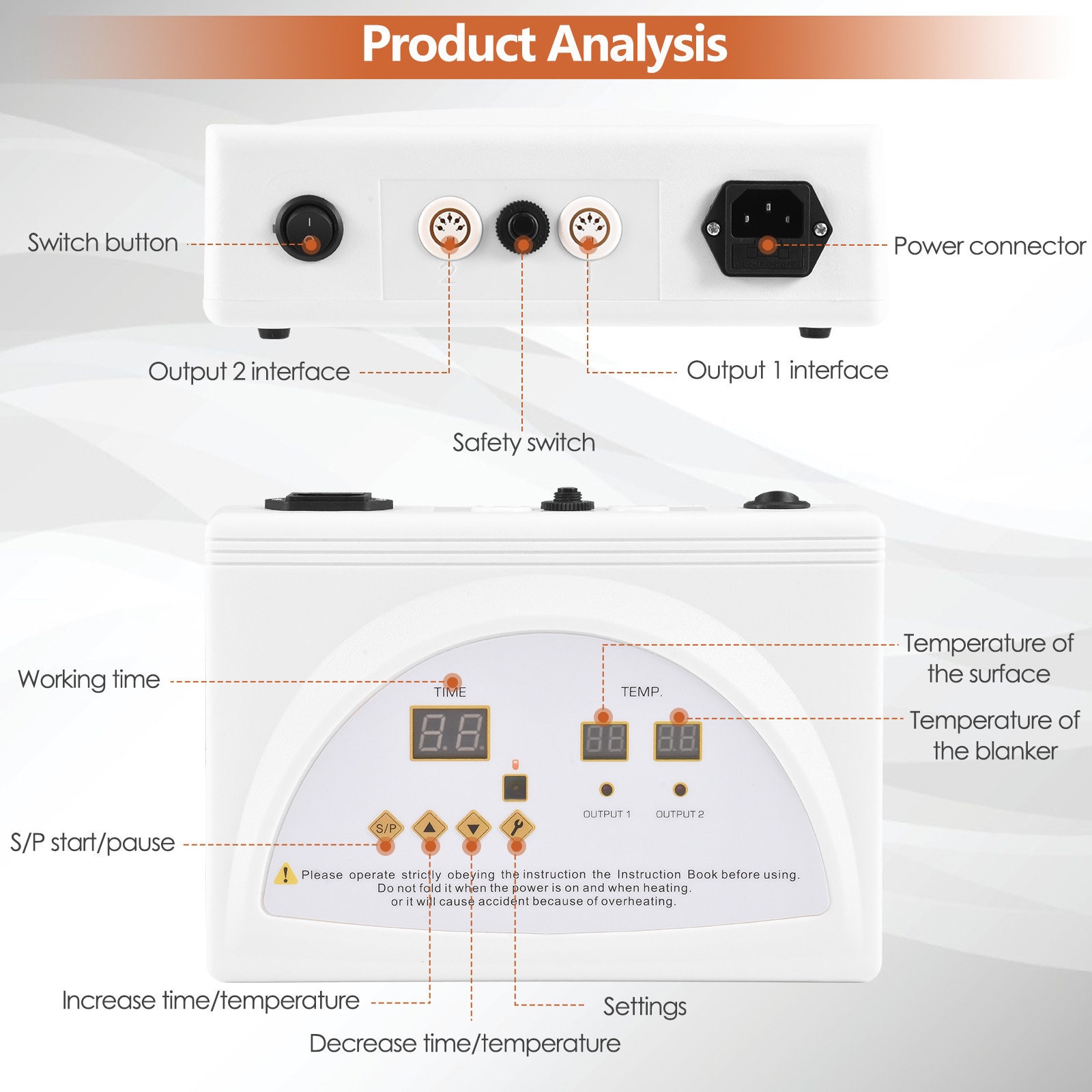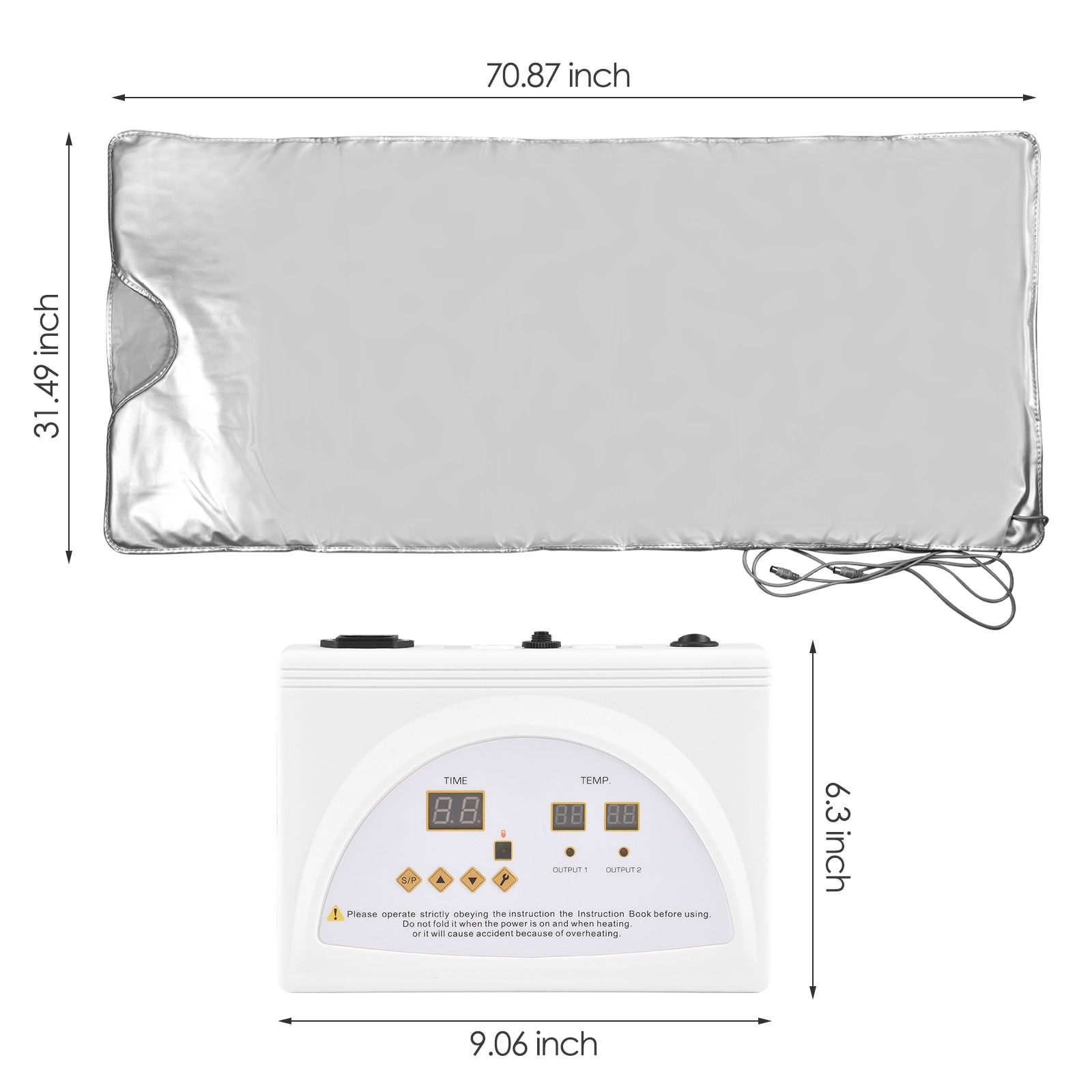 Package Include:
1 x Infrared Sauna Blanket
1 x Remote Control
1 x Power Supply