Description
Description:
1-second fast heating & 3 heating modes:Equipped with 3 halogen tubes as heating element, the electric heater warms within 1 second. The patio heater delivers infrared heat directly to people or objects instead of the environment, which ensures you can enjoy instant heating instead of waiting in the cold air in chilly winter. This infrared heater has 3 heating modes from 500w ~1500w, so you could choose comfortable heat freely no matter how the temperature changes throughout the year.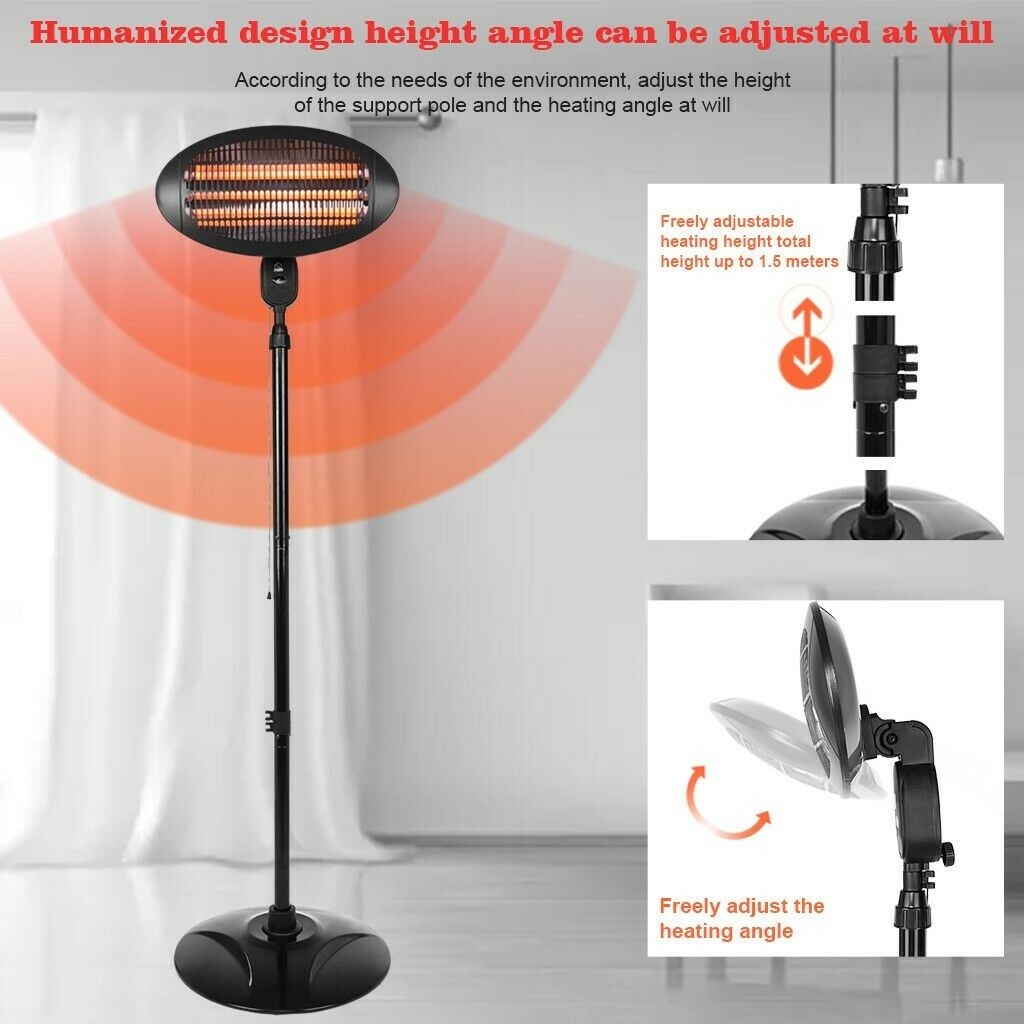 Ensure safety via tip-over protection & heating element:When purchasing a patio heater, safety is a main concern. A protective sheath covers the heating element to avoid pets or children getting burned if they t/ouch the surface of the heater carelessly. What's more, the electric patio heater comes with a stable round base to avoid tipping over. Even it dumps, it will automatically cut off the power. This is necessary for an outdoor heater because there is always strong wind in winter.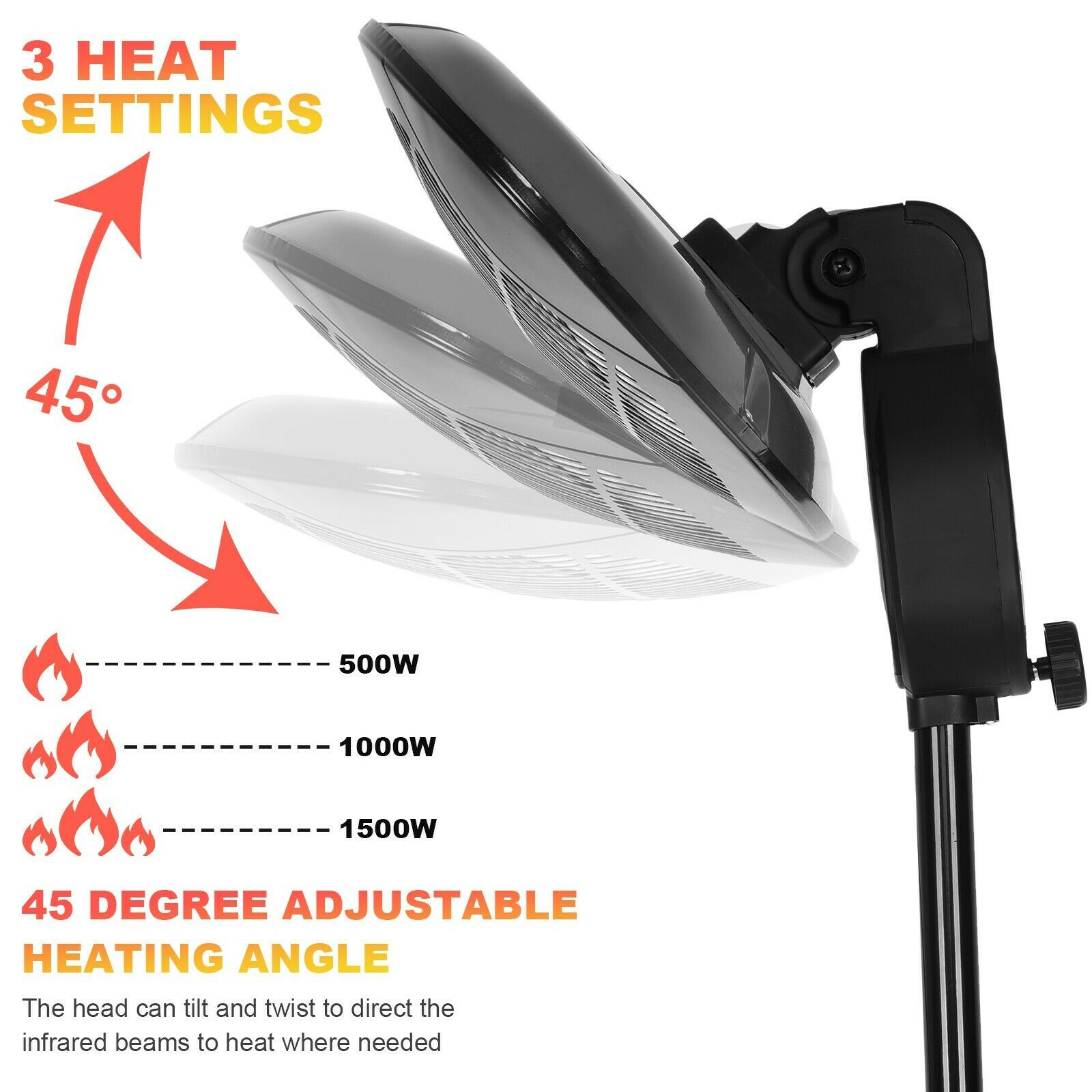 5-minute quick install & easy operate : Only partial assembling is required to set up the electric heater, and the whole process takes only 5 minutes. Using the outdoor heater is also extremely convenient. You can control power on/off and change heating modes by a long pull switch, no worry of having difficulty reaching it. The height of standing pole is adjustable from 5.9' to 6.6', and heating element assembly angles at 0º~45, so you could set them to a suitable extent for best heating effect.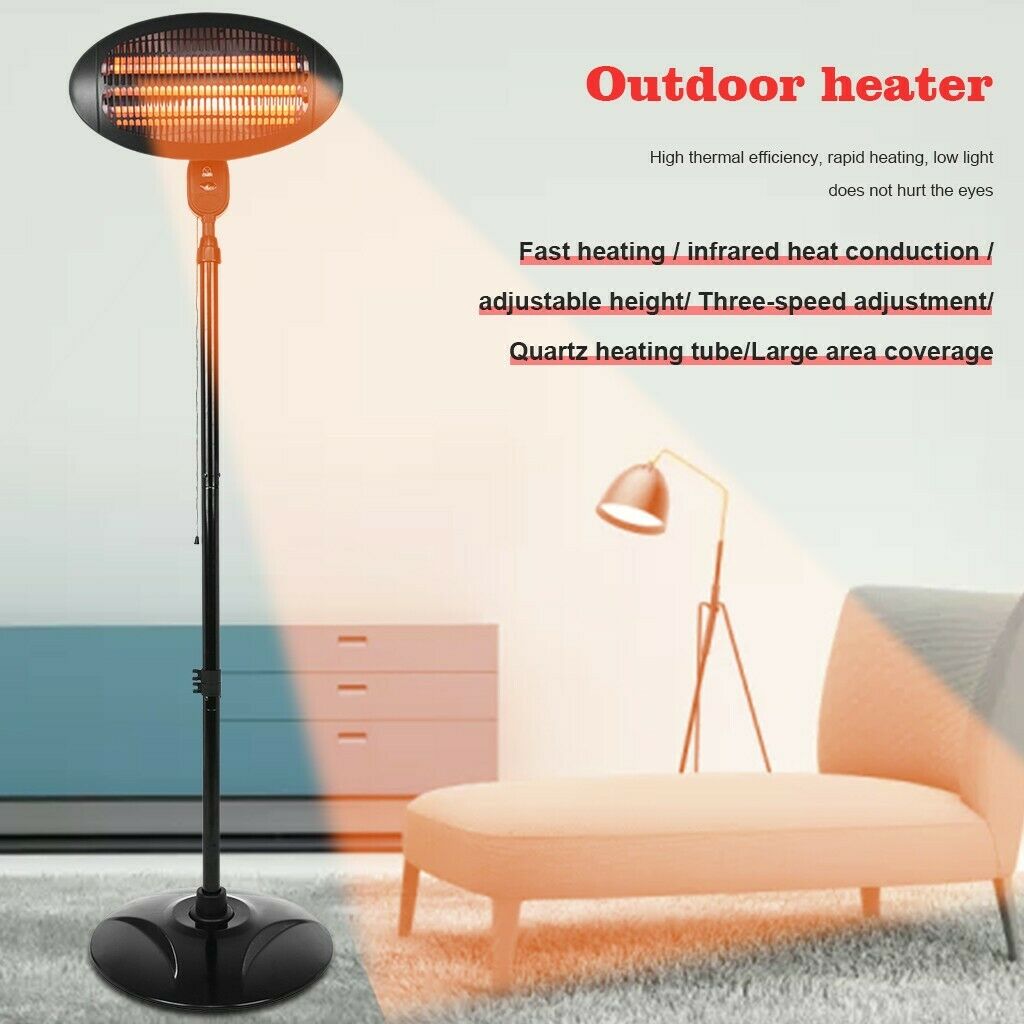 5-minute quick install & easy operate:Patio heater's ruggedness makes it perfect for outdoor use. The aluminum body and design allow it to withstand constant torture that nature throws at it, enabling it to work anywhere you want to stay. You could let the heater stand in your large garage, patio or bbq areas for efficient warm up and enjoy great time. It is also nice when you need a cigarette in your porch or have a chat in your balcony in cold morning and evenings.
Environmental friendly & no health risk : Unlike gas heater, the halogen heater does not output any harmful odor or chemical. Also, the electric outdoor heater has soft light, helps the body filter out UV radiation, increasing infrared thermal efficiency. So you don't need to worry about lungs or skin problems while using it. What's more, compared with a traditional heater, it could save 30%-40% on electricity. This protects the environment and help you save expenses on heating at the same time.
Simple to keep up:
Ipx4 grade weather and dust resistance makes this garden heater suitable for outdoor use. Don't worry about it every day; even if stormy weather might not be appropriate, it can definitely be used in damp or rainy situations.
High power operation without noise:
Does the electric heater make any noise when it is operating? Silent operation is a feature of the infrared space heater. Wearing it while sleeping is possible. Infrared heaters can be a peaceful, comforting companion during the winter.
LED display that makes sense and a long power cord:
The heating level may be seen visually thanks to the LED on the heating element assembly. The pull switch can be adjusted in accordance with it. Additionally, the power chord may be up to 6.2 feet long, allowing you to position the device wherever you want to create a heating effect without being concerned that you won't be able to reach the outlet.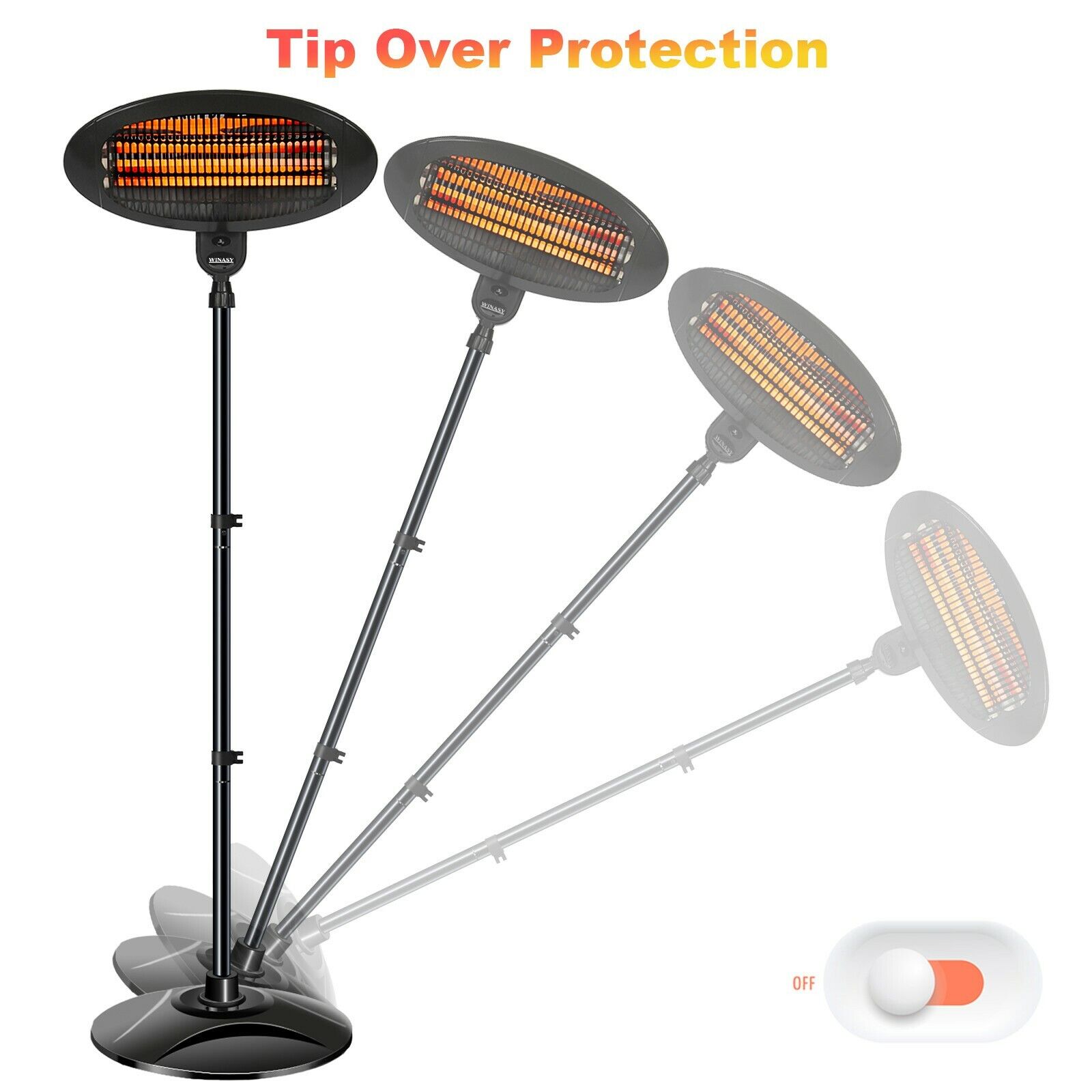 Product information:
Product height: 210cm
Speed regulating gear: Three gear
Product size: 45x45x210cm (lxwxh)
Package size: 53 * 53 * 21cm
Net weight: 9kg
Gross weight: 9.6kg
Material: Metal
Power: 500w / 1000w / 1500w
Rated voltage: 120v (60hz)
Color: Black
Controls: Cable
Heat pipe: Double carbon pipe
Working life more than 6000 hours
Length of power cord: 1.8m
1.5 KW per hour
Applicable area: 10-20 square meters
Waterproof grade: Ipx4