Are you searching for a useful and portable Mini Portable Table Saw to help you make one-of-a-kind, high-quality model crafts? Our portable table saw was created to cut through extremely hard materials with ease and precision.
Features:
Powerful Motor – High-speed motor delivers speed from 1000 to 3000rpm, supports cutting depth up to 35mm, helps to complete the cutting job efficiently and easily.
7-Level Speed Adjustable – Comes with a 7-gear speed adjustable power adapter, it enables easy rotating speed control for different cutting work.
High Precision – Equipped with the backer and marked with scale, it ensures accurate and straight cuts, safety in the cutting process.
Compact Size – The table saw measures 19*16.5*10cm portable size and 67.93oz weight, for easy transportation and convenient storage at home.
Wide Applications – It is widely used to cut soft metal and other materials, such as aluminum, wood, plastic, acrylic, etc. (Cannot work with HDF, iron, steel, and more.)
Reliable Quality – Made of high-quality material and selected electronic parts, it features stable performance and durability for use.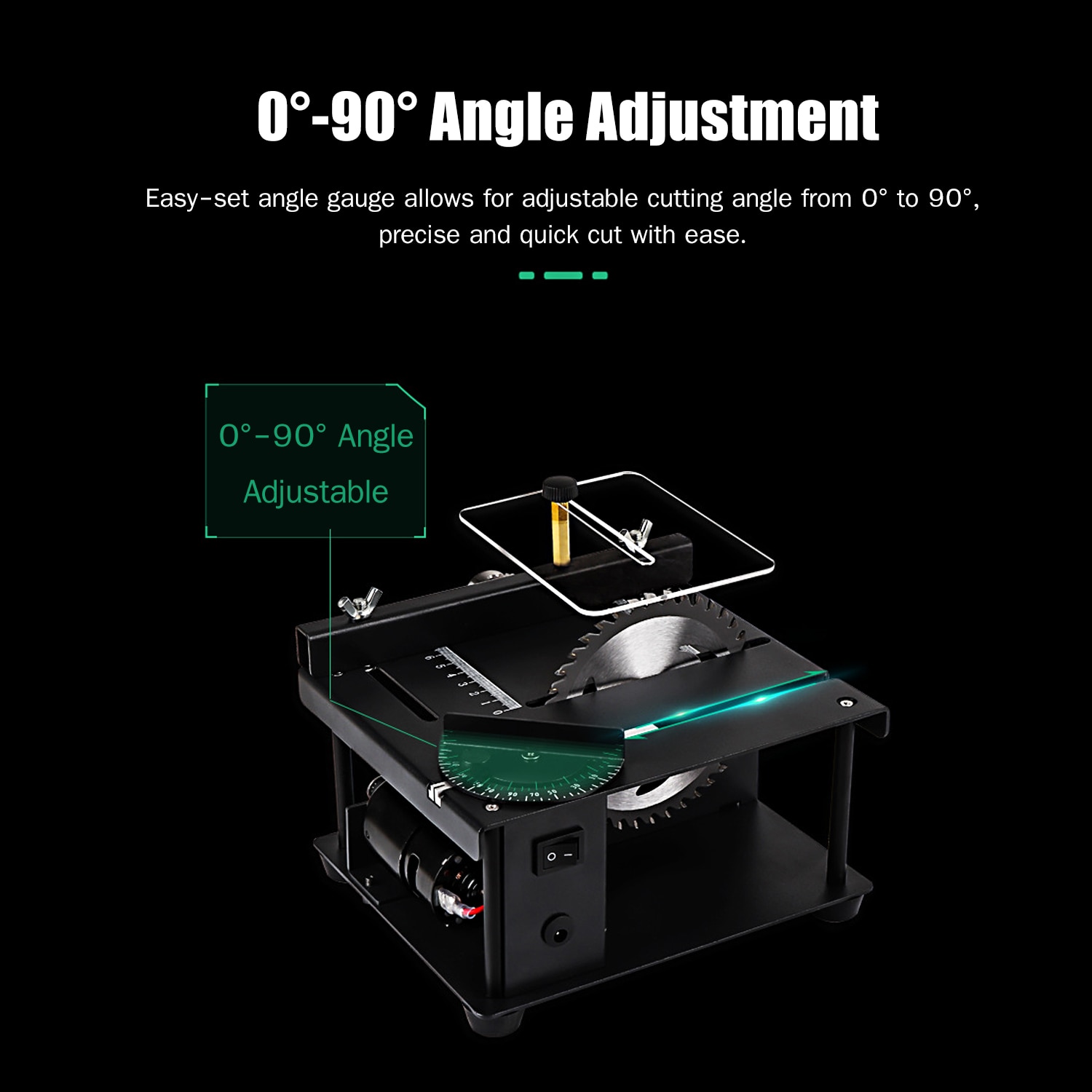 Most significantly, the Portable Table Saw is equipped with a safety fence to keep your fingers safe when cutting. With our superior small table saw, you can easily cut through hard and heavy materials.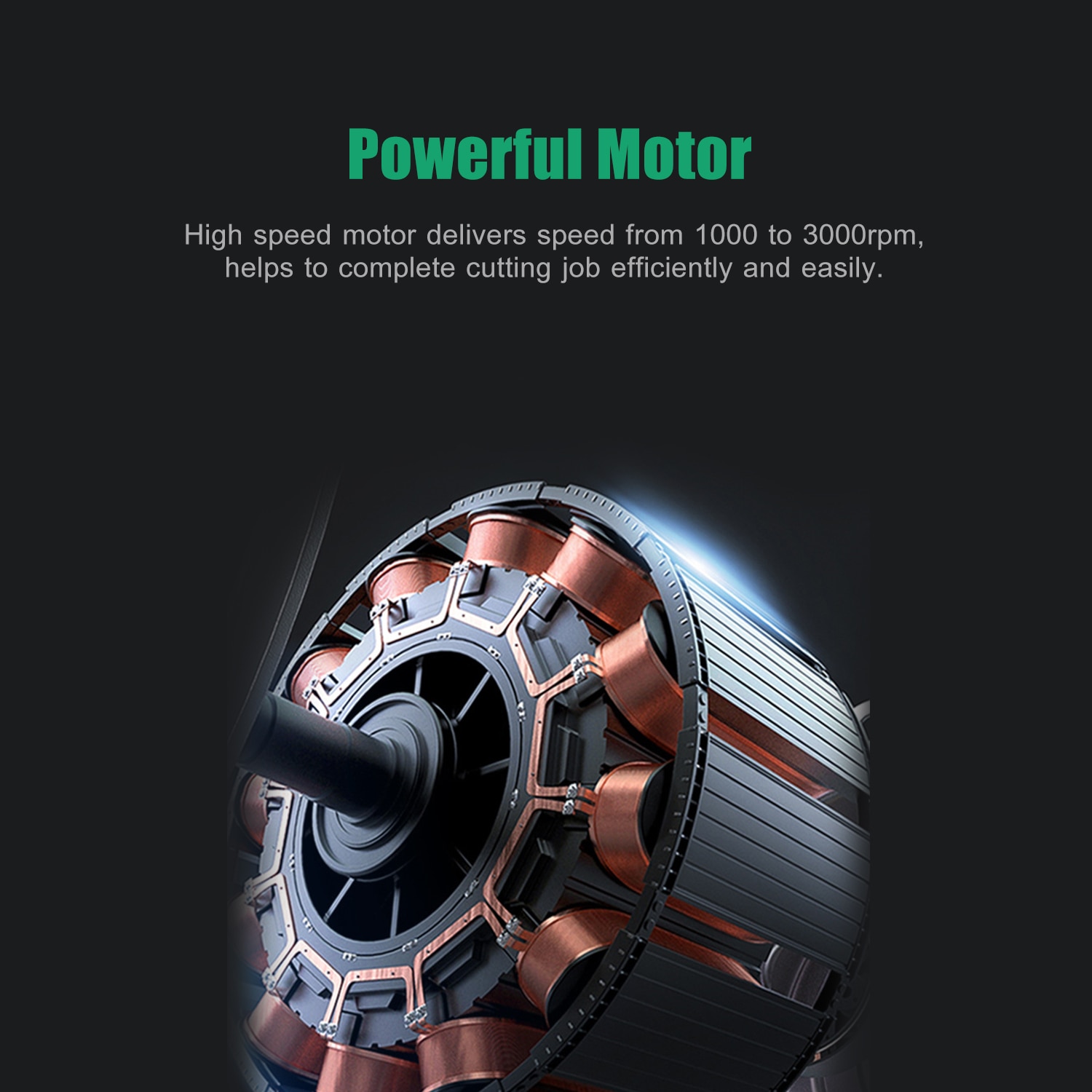 FEATURES
High-density board, iron, and steel cannot be cut with this table saw.
Wide range of applications, including metal cutting (suited for soft metals such as aluminum), hardwood cutting, plastic cutting, acrylic cutting, and so on.
Cutting depth 35mm, cutting smoother, strong power and long-term stability
Angle cutting, which allows you to cut out an 090 degree angle at will, is a precise and efficient procedure.
Made of high-quality materials that are both safe and environmentally friendly, as well as solid and sturdy.
A collection of tools is available for use, which is sufficient to meet the installation and usage requirements.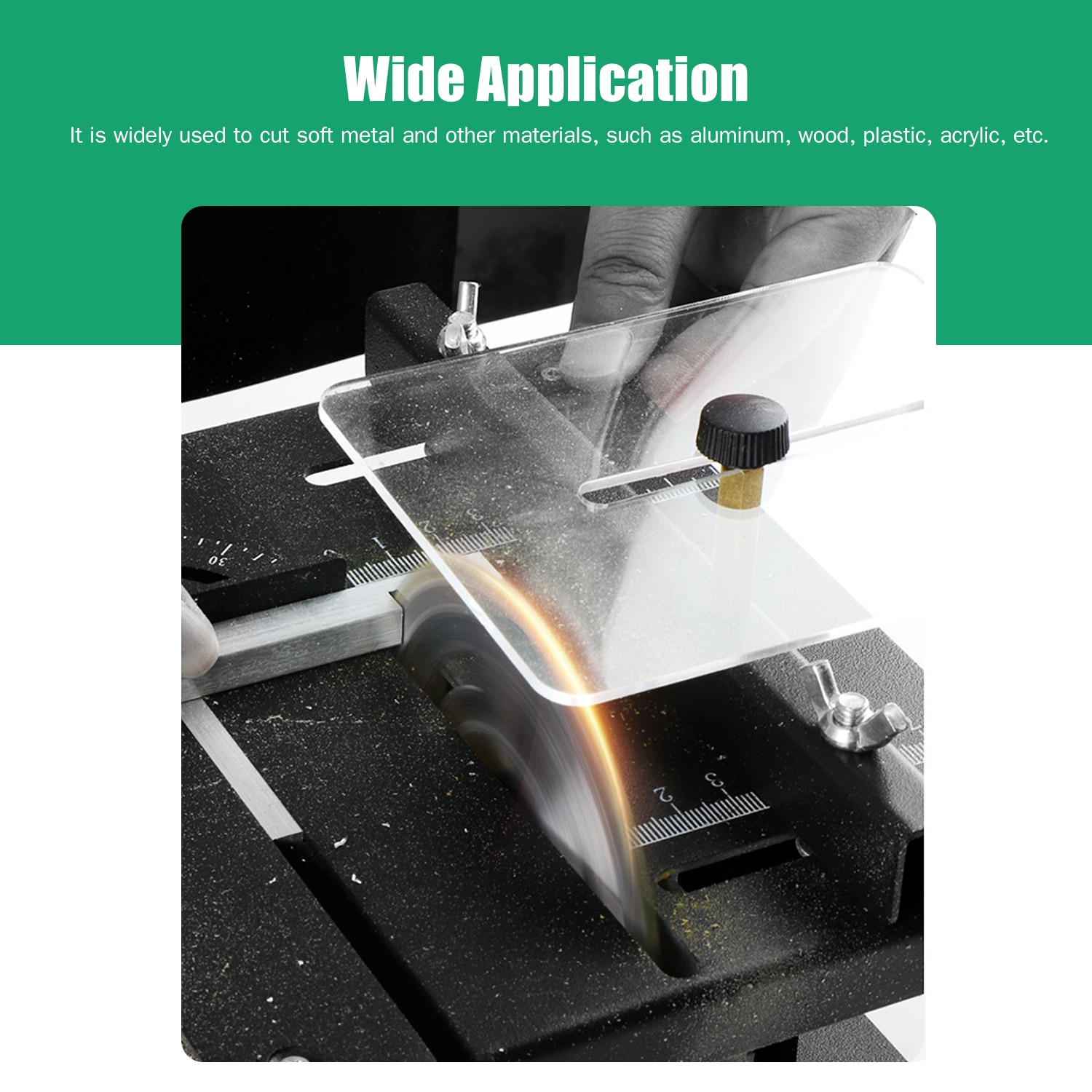 Specifications:
Rated Input Power: 200W
Voltage: 24V
Current: 20A
Motor Speed: 10000rpm
Output Speed: 1000~3000rpm
Cutting Depth: 0~35mm
7-Level Speed Adjustment: Yes
Angle Adjustment: NO (for without bevel cutting type) / 0~90° (for with bevel cutting type)
Saw Blade Diameter: 110mm / 4.33in
Item Weight: 1926g / 67.93oz
Item Size: 19*16.5*10cm / 7.48*6.49*3.93in
Package Weight: 2600g / 91.71oz
Package Size: 25*22*16.5cm / 9.84*8.66*6.49in
Packing List:
1 * Table Saw
1 * Power Adapter
1 * User Manual
1 * Saw Blade
1 * Screwdriver
1 * Transparent Cover
2 * Wrench
2 * Wing Nut
1 * Coupling Nut
1 * Cap Nut
1 * Backer