Description
FWT11 RJ11 RJ45 Telephone Wire Tracker Tracer Toner Ethernet LAN Network Cable Tester Detector Line Finder Continuity Check
This instrument is a multi-functional handheld cable testing tool.
It has wide application with reinforced cable types and multiple functions.
A necessary testing tool for telecommunication engineering, wiring engineering and network maintenance person.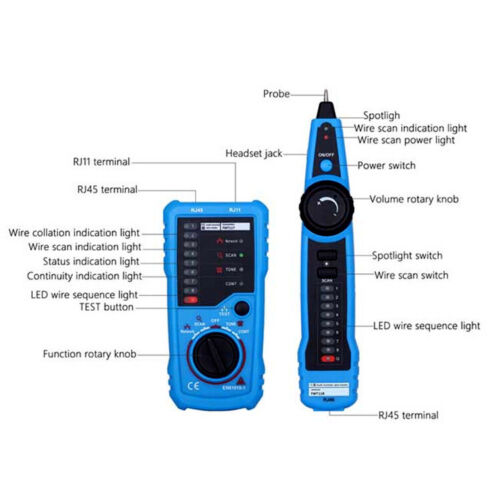 Main Functions:
Work prefect when RJ11 RJ45 cable is on power.
Wire Tracing: Trace RJ11, RJ45, cables or other metal wire (via adapter).
Easy and fast to locate the breakpoint without opening the wire's cover.
Network cable collation: Judge short-circuit, breaking circuit, open circuit and crossing.
Test line level, positive and negative polarity.
Status of telephone line checking: Test the working status of telephone line (idle, ringing, and off-hook) and judge TIP and RING line.
Check wire continuity.
Specification:
Operating temperature: 0°C ~ 40°C, maximal 80% relative humidity (non-condensing)
Storage temperature: -10~50°C, maximal 80% relative humidity (non-condensing)
Altitude: <2000m( meter)
Anti-explosion rating: IP 40
Distance of emitting signal: about 300m.
Emitter Battery: 6F22/9V
Receiver Battery: 6F22/9V
Package includes:
1 x FWT11 Emitter
1 x FWT11 Receiver
1 x Clip adapter cable
1 x RJ45 adapter cable
1 x English User Manual
1 pair of earphone