Description
To keep your outdoor seating area warm and comfortable, you'll need a patio heater. Our outdoor heater was designed to provide your house with comfortable heating without the burden of managing a large open flame.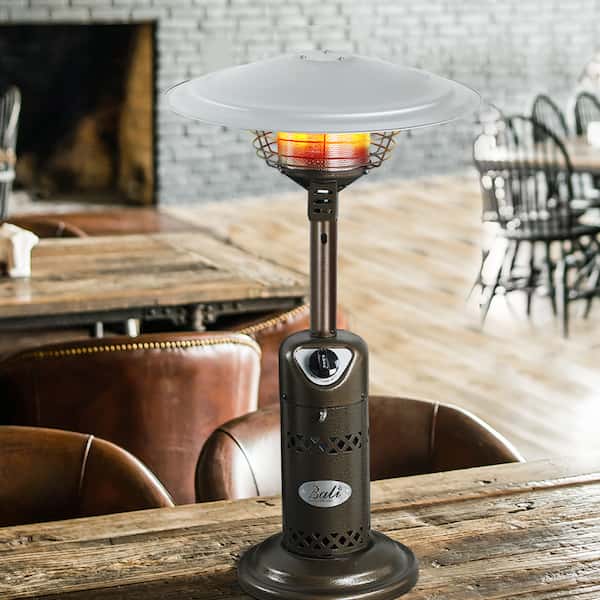 The outdoor propane heater's small body makes it the ideal size to set on any tabletop. You'll be able to hold it close to you in this manner, keeping you warm all through the chilly night.
The propane patio heater has a twisting knob that allows you to set the temperature. If you're sharing an outdoor heat lamp with someone else or if it's really chilly outside, you can make it warmer.
The table-top heater's sturdy steel base, which ensures that it won't topple over when in use, is its best feature. Turn on the tabletop patio heater to keep you and your loved ones toasty while you relax.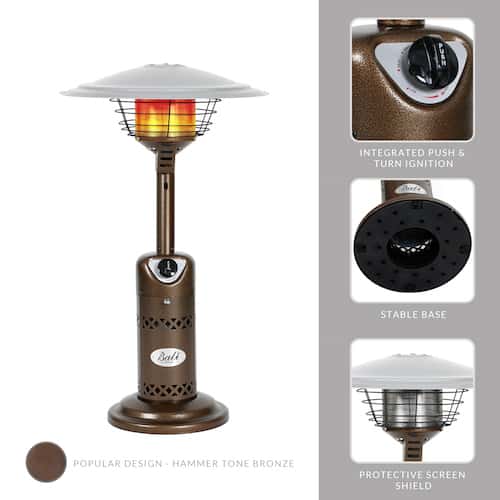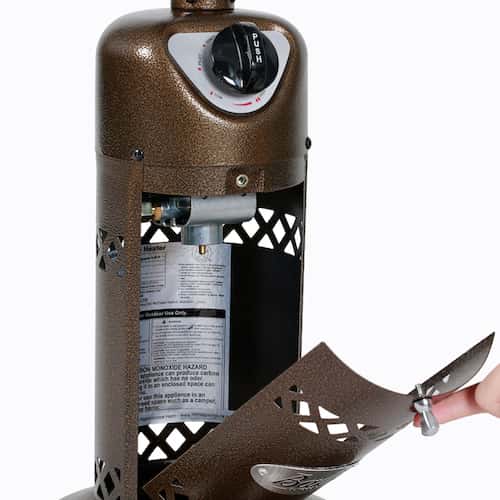 FEATURES
SAFE – Equipped with a protective net, the portable outdoor heater ensures that you don't get burnt when handling it. It also has an automatic off function when it doesn't detect any oxygen, keeping your home free of open flames and possible accidents.
EASY TO USE – Our tabletop outdoor heater comes with most of the components that you need to power it up. All that you have to do is to attach a 1 pound propane tank to it, and you're good to go!
PORTABLE – Measuring at just 34 inches tall, the patio heater is extremely compact and easy to carry around. Even with a propane tank attached, the outdoor heater still maintains its lightweight portability.
| | |
| --- | --- |
| Specifications: | |
| Size: | 34.1″ H * 20″ W* 20″ L |
| Weight: | 14 lbs |
| Color: | Bronze |
| Heat Output: | 10,000 BTU |
Specification:
360-degree heating
Adjustable power of 10,000 BTU of heat output
1 propane tank usually lasts 3 hours.
Package Content:
1X Patio heater
1X Manual
1X Gas hose
Awesome
Just what we needed. Takes chill off deck.
Better than expected!
Easy to assemble, the best aspect of this heater is the dedicated notch for a 20 lb. propane adapter hose.
Camper
We use at our camper, we love for the outdoors on the deck!
This is the one. Works great. Looks great. Great product.
Easy assembly. Looks awesome on the patio. Warm. Stays lit even in brisk wind.
Great Product…
This is a great size and puts off enough heat we thoroughly enjoy it.