Super-bright LEDs in this 70W solar street light will quickly illuminate the darkness. designed and constructed for use in a variety of lighting applications, including those for large-scale residential and recreational illumination, parking lots, streets, and walkway lighting. This is a very sturdy construction and great quality, and the light is entirely self-contained.
True Dusk to Dawn all-night lighting is possible because to its cutting-edge smart lighting profiles. It can adapt to changing geographic conditions and crucial weather, and it can also automatically manage the battery's critical status. One Design for Everything!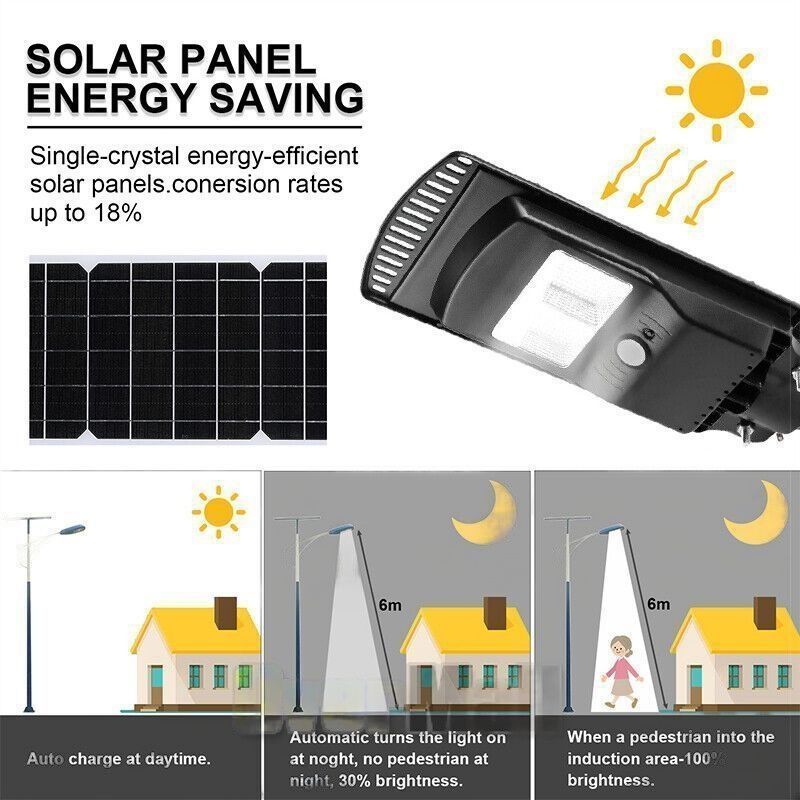 Advantage
The solar streetlight is simple to mount with screws and operates reliably without the need for wiring or a trench. It is readily mountable on a wall or pole (supported pole diameter: 1 inch to 3 inches, suggested fixed height: 13-16.4ft ft ). Please turn on the solar-powered gutter lights outside before installation. (Mounting equipment like as mounting poles are not included.)
Quicker CHARGING
Solar photovoltaic panels made of polycrystalline silicon have a high photoelectric conversion efficiency, making solar lights for the outdoors an environmentally friendly and energy-efficient option. Solar energy has a high conversion rate and can be fully charged in just 4-6 hours.
Specifications:
Color: Black
Light Color: White
Mode: Light Control+Remote Control + Human Body Induction
Material: Acrylonitrile Butadiene Styrene(ABS) +Polycarbonate(PC)
Light Source Power: 70W
Light Source: 2835SMD Chip LED lamp beads
Voltage: 6V
Waterproof : IP67
Long Life:50000H(LED)
70w 192LED:
LED QTY: 192LED 2835SMD
Solar Panel: 13W/6V Polycrystalline Solar Panel
Battery Capcity: 3.2V/12000mAh Lithium iron Phosphate Battery (Built-in)
Remote Control Power Supply: 2xAAA Battery(Not included)
Full Charge Illumination Time: 6h
Discharge time: 8-12h
Installation Height:4m
Sensing Distance: 6m
Sensing Angle: 120 Degree
Color Temperature: 7500K