Description:
1/3 Americans suffer from Chronic, long-term sleep disorders. Insomnia commonly leads to daytime sleepiness, lethargy, and a general feeling of being unwell, both mentally and physically. Mood swings, irritability, and anxiety are common associated symptoms. Weighted blanket is like a firm hug that can help you relax and sleep better, it can lower stress and create a calm feeling. Weighted blanket offers a soothing, calming, deep pressure feeling that helps people relax and concentrate during the day and sleep better at night. More than 76% customers confirmed that their sleeping time increased at least 1hr with the help of WEIGHTED BLANKET; More than 72% customers are excited to say that they can sleep much faster & deep rather than waking up 6 times per night!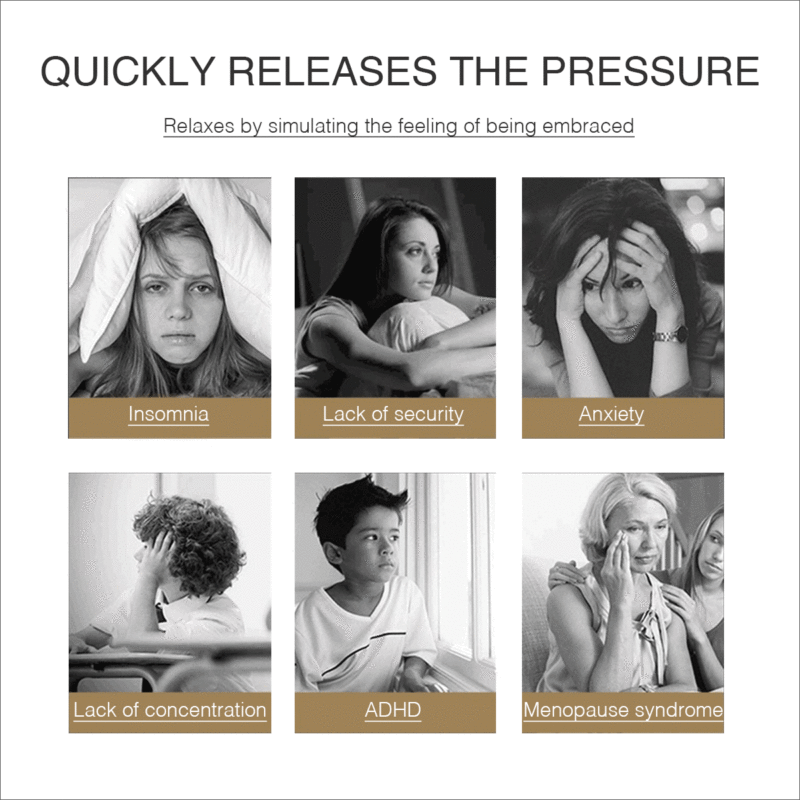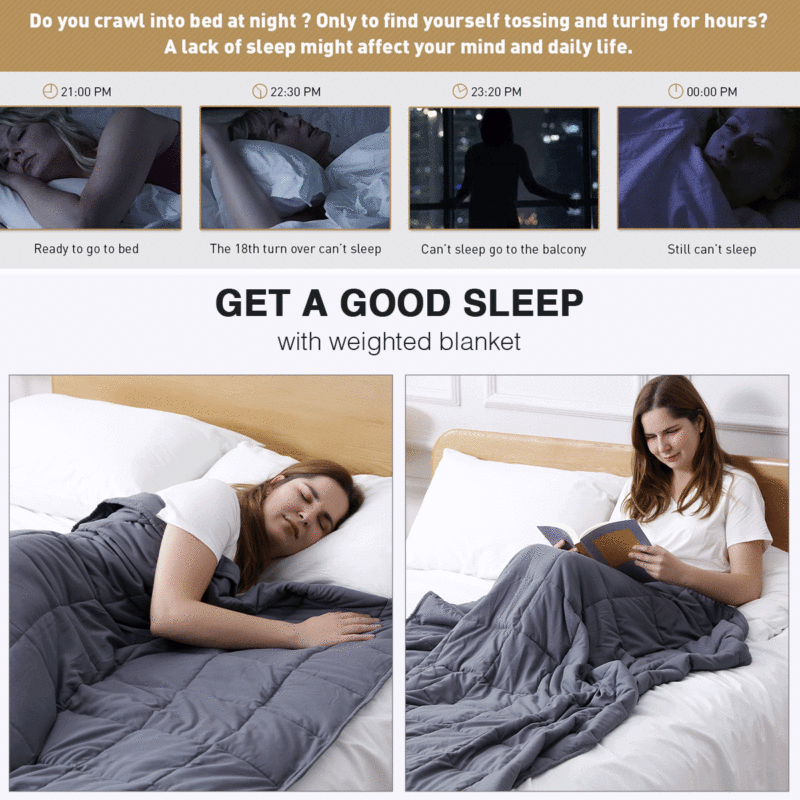 FEATURES:
Why it is needed: It can make the human body relax as much as possible, reduce the range of physical activity, and under the sense of gravity safety, you can fall asleep and relax the tense and tired nerves. If you have sleep disturbance due to emotional anxiety or lack of security, this weighted blanket is an item that can help you sleep peacefully. It will bring you the feeling of being gently embraced.
Great night's sleep: The weighted blanket is designed to add about 10% of your entire body weight. The gentle pressure generated acts on the target pressure point, quickly releases the pressure, and relaxes by simulating the feeling of being embraced. It can be used not only during sleep but also during siesta, reading or watching TV.
Pressure-dispersion design: The weighted blanket is made of 100% breathable Natural fabric. The inner part of the blanket includes ultra-soft cotton compartments. Hypoallergenic, non-toxic and odorless premium tiny glass beads are evenly filled up into each small compartment of the blanket. Glass beads that evenly distributed apply the same pressure to the entire body and help you to sleep soundly throughout the night and wake up feeling renewed!
Easy maintenance: machine wash gently in cold water and air dry. Hand wash is best. It can be used with a duvet cover to protect the blanket. If used with a quilt, we recommend only cleaning the quilt regularly.
Sophisticated sewing and silent technology: The square compartment design limits the interior filling to each compartment to reduce shifting and noise and make you fall asleep more comfortably. Sewing technology ensures tight stitching and prevents beads from leaking. The corner fixing ring can be fixed when using the quilt to prevent displacement.
choosing the right size:For an individual user with a single, twin, or full-size bed, we recommend choosing a blanket that weighs around 10-12% of your body weight, (plus one pound). If the final weight falls equally between two blanket sizes, it's best to go with the lighter option. Choosing the right size is crucial for enjoying the optimal benefits the Quality Weighted Blanket provides.
Can be used all year round: it can be used directly in summer, and it can be used with a functional quilt in winter, or covered with a blanket duvet on the surface of the gravity blanket to increase the degree of warmth.